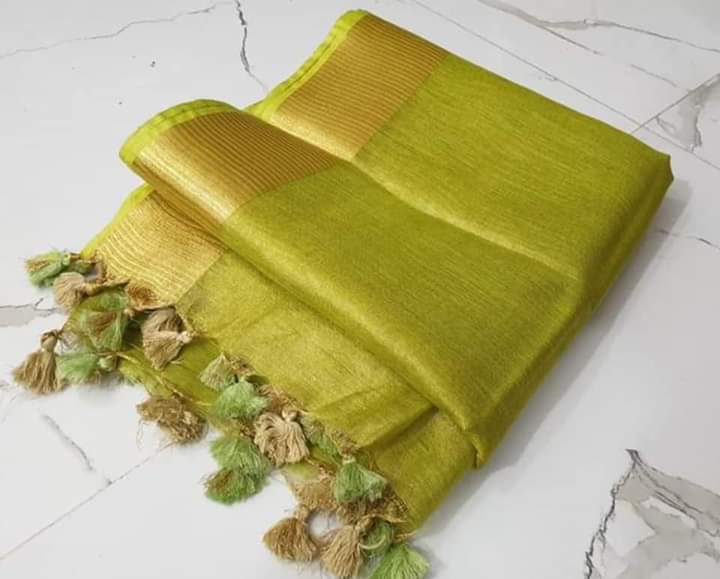 Parrot Green Tissue Linen Saree: Timeless Elegance
Introducing our custom-made Sky Blue Tissue Linen Saree:
Material: High-quality linen fabric for breathability and luxury
Quality: Meticulously crafted with attention to detail
Prestige: Subtle design for timeless elegance
Use Case: Versatile for weddings, festivals, and formal events
Durability: Resilient fabric for long-lasting wear
Low Environmental Impact: Made from renewable flax plants
Length: 6.5 meters with matching blouse piece
SEO Keywords: Custom-made saree, Sky Blue Tissue Linen, High-quality fabric, Timeless elegance, Versatile use, Long-lasting durability, Sustainable fashion, Low environmental impact.
Free Shipping Across India 
Free International Shipping on Orders Above 50000 
Dispatch Timeline 
Other Saree 7 Days
Handwoven Sarees   7-14 Working Days
* If You Have Opted For A Ready to Wear Saree , The Dispatch Timeline will be Extended by 7 days .
We Deliver all Over the Globe . We Have Tie-Ups with Multiple Shipping Service Providers such as DHL , FedEx , DTDC etc. to Deliver you the Product as Early as Possible .
We accept Return on Handloom Saree upon any Severe Damage.